What is it ?
Lead generation fits in the direct marketing scope, and describes the marketing process of stimulating and capturing interest in a product or service for the purpose of developing sales pipeline.
Finding your prospect and successfully reaching them is a long, hard and time consuming process for most of the companies. Lead generation regroups the marketing actions a business can put in place to attract, create and stimulate prospects and/or customers interest in a product or a service in order to develop sales. These marketing actions tend to rely on computer programs, database collection, and the Internet in order to, down the line, increase sales revenue and turnover. Yet, Lead generation can, in some cases, also rely on direct contact through phone calls in cold calling (using a database where prospects have shown now a particular interest in the offer), or events where sales representative raise the people's interest face to face in order to change them from simple prospects, to leads.
We talk about lead generation infrastructure to describe a SaaS (Software as a Service) that provides an API to automate this process of generating leads through different methods. The aim is to build qualified and segmented databases of prospects (leads).
Using an email finder guarantee you a sustainable stream of prospects to contact each day and it automates the contact forms so you have to manually chat only with those who are truly interested and just need to hear your last sales pitch for your product or services. Some of your competitors might not have heard about it before because they are stuck in traditional marketing methods, and don't see the evolution happening in front of their eyes. Using latest technology based methods allows you to explode and multiply your growth.
What are the advantages of using it ?
When it comes to digital marketing and direct marketing, there are many different approaches to develop a strategy. But a lead generation infrastructure helps you to automate your processes and makes your outbound marketing hundreds of time more efficient, at the cheapest price possible. Indeed email marketing is the cheapest marketing method, and even if it doesn't have a high conversion rate (there are many methods to increase your conversion rate), it has the greatest ROI possible : compared to what they let you do, lead generation SaaS is really cheap! Email marketing is a very effective way to enhance your traffic, visibility and sales as it has the highest ROI compared to all other methods that are often way more expensive.
Your time is too valuable to be wasted by doing manual and repetitive tasks that could be automated! If you don't automate your processes it will be really time consuming, or if you want to be successful you have to value your time, and don't waste it on tasks like that!
Also you assure your company a reliable and continuous stream of new leads to contact!
How to use it ?
You can narrow target your potential prospects by using advanced search features, and generate mass lists of them: so you have large lists of highly targeted leads, which means you are increasing your chances to see your leads actually convert.
"You can build laser targeted and massive lists in only a few days" – Mathieu Picard, CEO of Anyleads.
Lead Generation Infrastructure is even more interesting for B2B businesses that want to reach out to their prospects through their professional email addresses. ​You can dig out from the Internet all the employee emails just by the name of the company and the domain of its website. But most of the time the data (emails, names, job titles and position etc) are gathered through available online data on social media.
An example of a trustworthy Lead Generation infrastructure
As part of this post on Lead Generation and email marketing we would like to feature Anyleads
– a Lead generation infrastructure that provides trustworthy services to worldwide customers, using back-end technology crawling to mine very high targeted database of contacts. They have integrated an API to crawl, extract and verify the mails of your prospects. Their integrated CRM allows you to launch drip mailing campaign, with powerful retargeting and funnel generation.
There are several similar companies on the market that have a Lead Generation Infrastructure. For example, LeadFuze is a good lead generator with an integrated SMTP server and they have an integrated CRM that tracks the opens clicks and replies. Datananas does the same but without an SMTP. Getemail.io has an SMTP but doesn't have a CRM integrated.
All 4 have the possibilities to extract your data to an Excel file, but only Anyleads offers the possibility to turn a CSV into email, has an unlimited number of users that you can add, tracks the conversions and can get emails from domains. Also, the API of Anyleads verifies all the mail addresses it finds and guarantees you the lowest bounce rate on the market.
Last but not least, Anyleads is cheaper than the rest of its peers, and its advanced features allows you to be extremely precise, test things and only select what works best, for example, the A/B testing feature!
Create your account at anyleads.com and start automating your sales!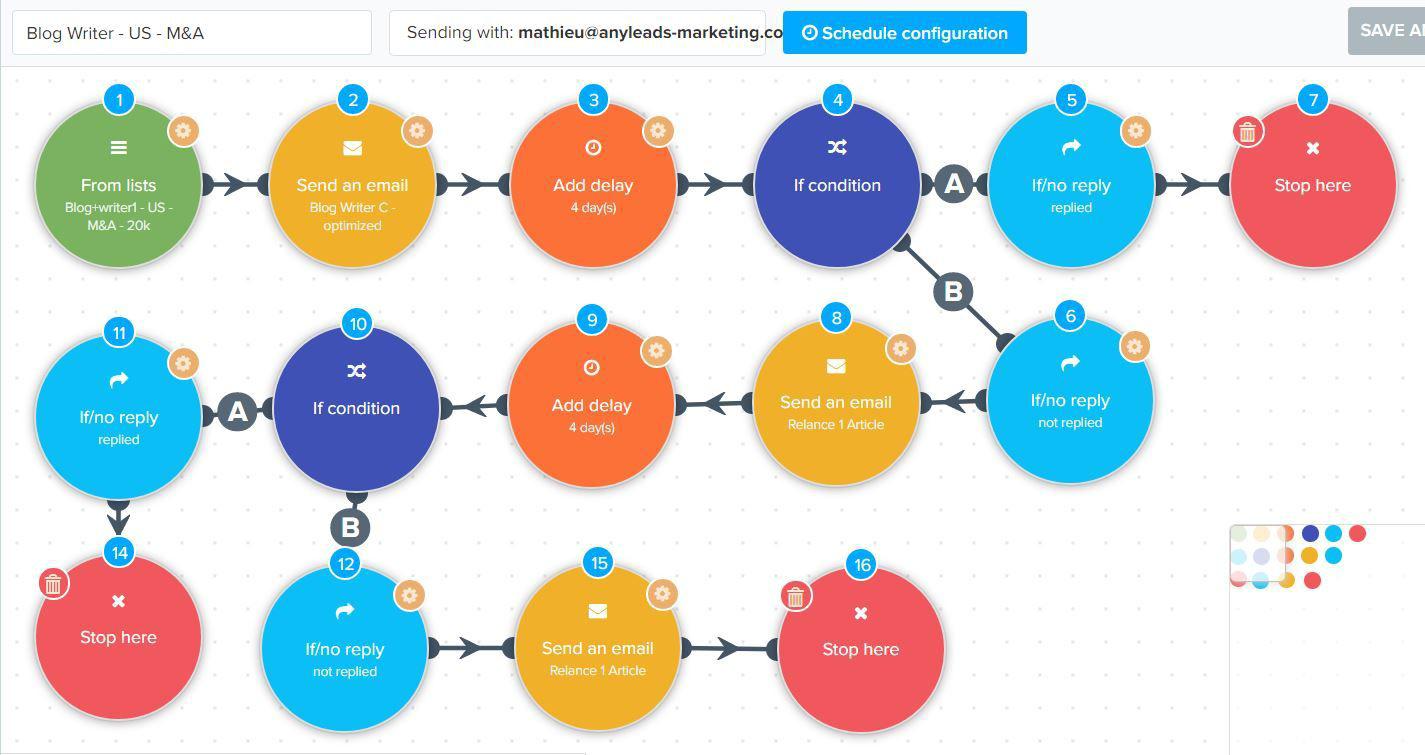 Make the most of Anyleads with their limited promotion code : ANY30 to get 30% off your subscription