Using Spreadsheets to Keep a "Password Tracker"
It's difficult for anyone to keep track of all of their account passwords these days. The sheer volume of online accounts with different requirements for usernames combined with passcodes makes it foolish to leave the task to memory—especially because for security purposes, it's prudent to always use new passwords for each account. Repeating a common password on all of your sites just because it's easier to remember makes it that much easier for a hacker to compromise multiple accounts, jeopardizing your identity, assets, and possibly your entire digital life.
But there is no getting around it: you need these passwords to secure your accounts from unauthorized use and prove your identity when accessing any website or online service that contains sensitive personal information. Fortunately, rather than jotting down all of your passwords in different places, there are software tools that can make this task much easier.
Spreadsheet programs—such as WPS Spreadsheets—give you the perfect preformatted template to organize, view, and track your entire collection of accounts (and their accompanying usernames and passwords) in one place. What's more, WPS Office gives you the ability to secure your "Password Tracker by password-protecting" the document itself.
Setting Up Your Password Tracker
Let's walk through how quick and easy it is to set up and maintain your Password Tracker using the WPS Spreadsheets application:
Step 1: Click on the + button on the tab bar, or, click on the green Menu Button in the top left corner then select File


Step 2: Choose "New Blank Workbook," or if you prefer to review other templates to track a specific category of passwords, you can choose "New from Other Templates" which include General, Business, Education, Office, and Personal.


Step 3: Label the headers in separate columns with your preferred tracking categories, such as:



Name of account
Website
Username
Password
Email



Step 4: Fill in all of these fields for each account that you use a password.
If you prefer to keep certain types of passwords separated from others, you can organize each category into its own sheet. Alternatively, you can create a master Password Tracker that contains all of your passwords and user information in a single sheet.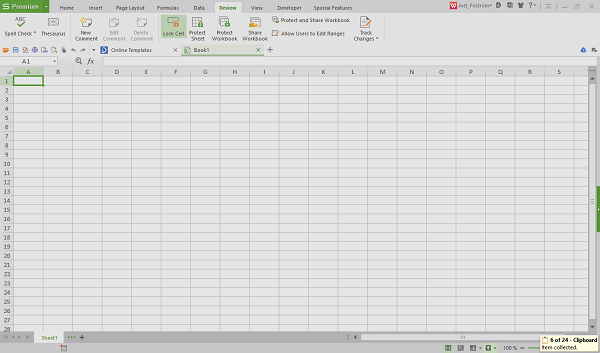 Password-Protecting Your Spreadsheet
As you can see, it's quite simple to create your Password Tracker using WPS Office. But now that you've created this valuable document (which contains a goldmine of personal data), it's vital that you secure the document by creating a password to protect the Tracker spreadsheet itself. By doing so, you can prevent unauthorized users from modifying your worksheet or workbook. Here is the process to follow in setting up your spreadsheet for password protection:

Step 1: Under the "Review" tab, click the "Protect Sheet" or "Protect Workbook" icon depending on if you are adding a password to a worksheet or a workbook.


Step 2: For worksheets, when the "Protect Sheet" dialogue box opens, you can indicate whether you want to "Select locked cells," "Select unlocked cells," or choose another type of protection such as "Format cells."


Step 3: You will see a Password input box: enter your desired password for the Password Tracker.


Step 4: Click OK to complete the operation.
If in the future you want to remove the protection on a worksheet or workbook, you can just click the "Unprotect Sheet" or "Unprotect Workbook" under the "Review" tab and input your password. This will cancel the password protection.
Tips for Securing Your Passwords
While password-protecting your Tracker will help to secure your private passcodes, here are a few additional strategies to safeguard your password-related data:

Instead of listing out your full actual passwords in your Tracker, use "reminder representations" to trigger your memory for certain passwords. For example, say your password to an important account is "fruityberries27&" and you know you will remember "fruityberries" since it means something to you. In that case, you could log a shortened version of the password in your Tracker as "fb27&" to remind yourself to lowercase the words.
When selecting which passwords to use, generally the longer a password is, the stronger it is. Take the opportunity to review your current passwords as you enter them into your Password Tracker using WPS Spreadsheets and make sure that your passwords meet these criteria:


A mix of characters, both letters and numbers
A mix of upper- and lower-cased letters
Inclusion of symbols if the system allows it
Use of obscure terms rather than something someone might guess about you. (For example, choose a misspelled term rather than using your pet's or child's name in your password).
With the help of WPS Office Spreadsheets to set up a password-protected Password Tracker—alongside some smart best practices concerning your passwords—you can safeguard your valuable personal data. What's more, using a Password Tracker will make it much easier to track and manage your passcodes for different accounts so that you don't forget them and can easily access the information you need while preventing unauthorized access to your personal data.
For more tips, guides, and information on using WPS Office, please visit our Online Knowledge Base.