One of the three components of the free WPS Office Suite is Presentation. The Presentation software is 100% compatible with MS PowerPoint, Excel, and Word. Other features of this incredibly well-designed freeware follow.
WPS Presentation Features:
Tabbed interface allows for switching between open documents easily and quickly using the WPS Priority Tabs component.
Never lose your work by using the Auto Save feature.
You can share your Presentation documents easily using the built-in email application.
Product confidential or sensitive files with the automatic WPS Presentation encryption system.
Presentation supports many types of document including XLS, DOC, TXT, and PPT.
Amazingly clean and intuitive user interface.
Presentation allows for the quick addition of sound, videos, images, and more to your presentations.
The Presentation program allows for editing and inserting of tables, graphs, and charts.
Comes with scores of templates.
In "presenter mode" allows for viewing of notes.
Explore Presentation for the many more features in this mode of WPS office.
Presentation is a powerful tool for creating multimedia presentations. Users may complete many types of projects using Presentation. These users include many of America's most respected companies, due to the programs agility and cross compatibility with MS PowerPoint. Though it is powerful enough for corporate conference presentations shown on a big screen, it is so easy to use, school kids from grammar school through graduate school use it for school assignments.
Some of the Thousands of Things You Can Do with Presentation: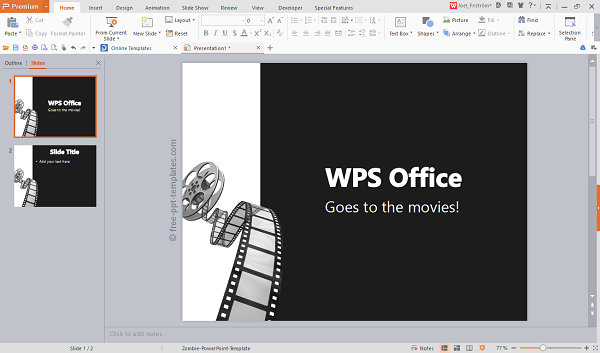 Use it to Edit Graphics

While you cannot do as great a job using Presentation as a graphic editor as you would with programs like Photoshop, it works great as a tool for graphic designs. Imagine your child has a project on dinosaurs that he or she will use Presentation to make it with. Graphics can be combined to form images we see every day or for designing your student's own Jurassic Park. Images that are edited or created in Presentation are easily saved, which is handy when designing brochures, business cards, and other printed materials.

Make a Movie

Video creation for school or business is easy with Presentation. It is an easy process for turning any Presentation into a movie. Movies are a great way to tell your story to investors, explain FAQs, or give a presentation to a class that turns a not so interesting topic into a smashing class with learning points embedded in student's brains.

Use Presentation for Creating Quizzes

When kids are connected, kids are interested. Presentation allows for instructors and teachers to easily make a quiz. However, companies can use the Presentation tool to make tests for employees, for instance, following a safety training class. Some regulatory agencies require testing after training and with WPS Presentation your records will be in compliance.
The only thing limiting your use of Presentation is the size of your imagination. This multipurpose tool can be used by children or by the marketing department of a large corporation. Results are outstanding and meet your needs. The home edition is free, and licenses for businesses are a fraction of Microsoft's cost.
For more tips, guides, and information on using WPS Office, please visit our Online Knowledge Base.