Money talks, especially when you came up with a brilliant startup idea and looking for ways to turn it into a reality.
In case you have enough business capital and don't want to seek investors, you can try to bootstrap. It's a process when startupper tries to launch a startup without investments from third parties. Otherwise, finding sponsors for a project is of a great importance.

Choose the right fundraising strategy
Here is the list of fundraising options you definitely should know about: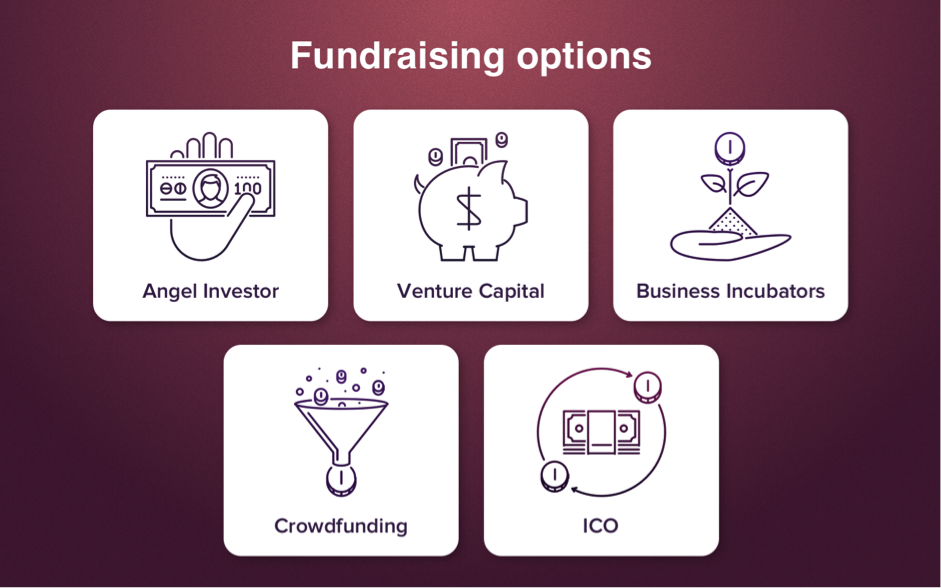 1. Angel Investor
The Angel Investor typically is a person ready to invest in your project with the return on equity. Such investors don't give a large amount of money but are likely to invest in a risky business.
Where to find: You have two variants. First one is online platforms like Gust or Angellist. The second one is business meetings connected with the industry.
2. Venture Capitalist
This person can invest a large amount of money into a startup in order to get a massive return when the startup will succeed. Venture Capitalists manages the money they received from well-off investors, venture funds and any other financial institutions.
Through it could be risky for investors, venture capitalists always carefully choose a project to fund. They invest in startups that seem to be reliable, and rarely in early-stage startups. That's the reason why it is challenging to cooperate with them in the early stage of your company development.
Where to find: Only a few VCs schedule meetings with those who write them directly. They can contact you if your company produces a profit. Unfortunately, novices have no contacts with VCs, so they should choose another option.
3. Business Incubator
It is an organization which helps startups with launching and funding. Apart from providing seed capital, they teach newbies. Business Incubators organize workshops and meetings with successful businessmen. After that they can even find a VC who may invest in the project.
Where to find: Y Combinator is one of the best business incubators, having raised such companies like Reddit, Hexel, Dropbox, Scribd, and others. If you are lucky to be chosen by this company, you'll get $120K and will be invited in Silicon Valley for a traineeship. You can apply for participation in Y Combinator website or find a BI in your country.
4. Crowdfunding
With crowdfunding you get small amounts of money from a large number of investors. Both companies and ordinary people can be your investors.
Where to find: There is a great variety of crowdfunding platforms. GoFundMe is one of such platforms, which provides the opportunity to get donations without any rewards from you. It typically works in case your startup raises money for charity. There's also Kickstarter, one of the most well-known crowdfunding websites. You set a reward for investors, but it will be given only in case you reach a financial goal. On Indegogo platform there is a compulsory 9% fee no matter you reached the goal or not.
5. Initial Coin Offering
ICO is a brand new trend in fundraising and an excellent substitute for a traditional percentage. Typically, you sell tokens based on already existing cryptocurrency like Bitcoin or Ripple to stakeholders. But before this stage, you need to find a developer and create ICO.
Nowadays Internet is full of websites helping people raise money for the startup. But choosing the right option is only the first step in successful fundraising. You also need to be prepared for all sorts of question from your stakeholders.

How to prepare for a meeting
There is a couple of tasks to accomplish before meeting potential stakeholders. At the very beginning, a Pitch Deck and a prototype are must-haves.
Pitch Deck is a brief presentation used to provide stakeholders with the main info about your company. Remember this three characteristics of a successful Pitch Deck: good looking, compelling and laconic.
A prototype is of a great importance for tech startups. With the help of prototype, you give an opportunity for your investors to test application or website on their own. So you increase the chances to get needed sum of money. In some cases building and presenting MVP product can be a good option. If you have neither MVP nor prototype, you should at least show a design of the project.


Common mistakes that will kill your startup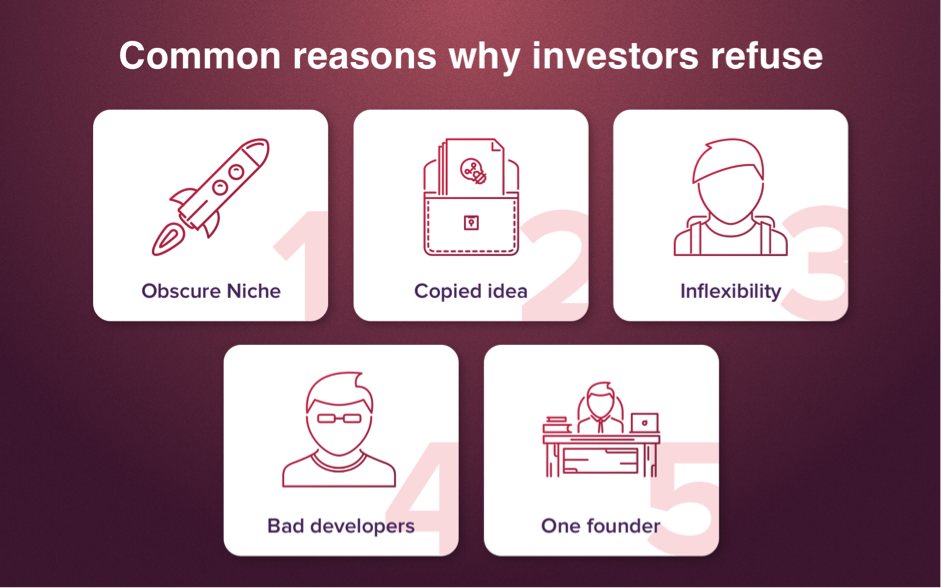 1. Non-unique idea
It's no wonder that nobody will invest in your startup if the similar company already exists. Only unique and bright ideas become great.
2. Bad developers
Choose your vendors carefully, or you can fail no matter how great your idea is. The cheapest solution is not always the best one. To choose right vendors, don't forget to check testimonials and portfolio of a company.
3. Inflexibility
It can be surprising, but a lot of successful companies were quite different at the beginning. Be ready for changes if once you come up with another worthy idea. Talk with customers and stakeholders whether they like a new idea. If their answer is 'Yes', don't hesitate to go for it.
4. Unclear Niche
There are two the most common issues startuppers face while choosing the product niche. First one is the fear of competitors and the second one is the fear to be the first on market. With the great idea you will never face these problems, so don't be scared.
5. One founder
According to statistics, startups with more than one founder are tend to be more successful. Why is it so? People who run business on their own don't want to share ideas with others. Hence it's hard for their project to adjust to external factors. Be open-minded and don't be afraid to share your ideas and difficulties with investors or relatives.
Fundraising process requires a lot of efforts and time. But with the right fundraising strategy, all your efforts will be regarded.
About the author:
Nataliia Kharchenko is a Technical Writer at Cleveroad. It is web and mobile app development company in Ukraine. We are focused on helping startups, small, and medium businesses create competitive and winning software. I enjoy bringing a digital world closer to people and writing about technology, mobile apps, innovations, and progressive management models.