We kicked off our series on small and medium-sized businesses by noting that SMBs share many common challenges. Yet many of these issues—from managing a constant influx of new hires to keeping abreast of profitability issues—can be solved using the WPS Office Presentation app.
SMBs need the power of Presentation to help them influence others in real time, whether it's through a slideshow to train new employees or convince new investors that your company has what it takes. With these needs in mind, small businesses will appreciate the versatile nature of this advanced mobile suite. It is not only 100% compatible with Microsoft PowerPoint but also allows you to:
Work right from your smartphone or device to insert images into your presentation
Write on slides directly using an ink feature
View notes using the presenter mode
Use a touch-controlled laser pointer for professional polish
Ready to get started? Follow these tips to build a powerful, effective business presentation:
Tap ready-made tools. Whether you need to communicate your points to an audience of two people or 2,000, dynamic visuals can enhance your skill as a public speaker. Yet executives at smaller businesses have little time to spend tinkering with a PowerPoint to get it just right, whether they have technical design skills or not. By calling on the WPS Office Presentation app, you can draw on a wide range of capabilities that take all the guesswork out of presentation creation so that you can come up with something great in a hurry:
Not graphically inclined? No problem—the app comes equipped with an impressive selection of slide templates that are professionally designed and ready to grab and go.
Overwhelmed by formatting issues? Your presentations will look like they've been crafted by a graphic designer (even if you aren't one) simply by working with the app's familiar and intuitive array of formatting tools, from colors, shapes, font styles, table formatting, and even WordArt text effects.
Prefer to customize? The app has you covered since you can use the ready-made templates as a starting point for your own original work. Between the template suite and countless formatting options, you'll be able to tailor your message and delivery to any type of customer, client, or industry audience.
Want to avoid boring? If your skills are more basic, your presentation might look simplistic and ho-hum—unless your app supplies the bells and whistles for you. With WPS Office Presentation, you'll look like a pro at all of your business meetings when your slideshows feature multimedia files, slide transitions, or even advanced animation if you choose.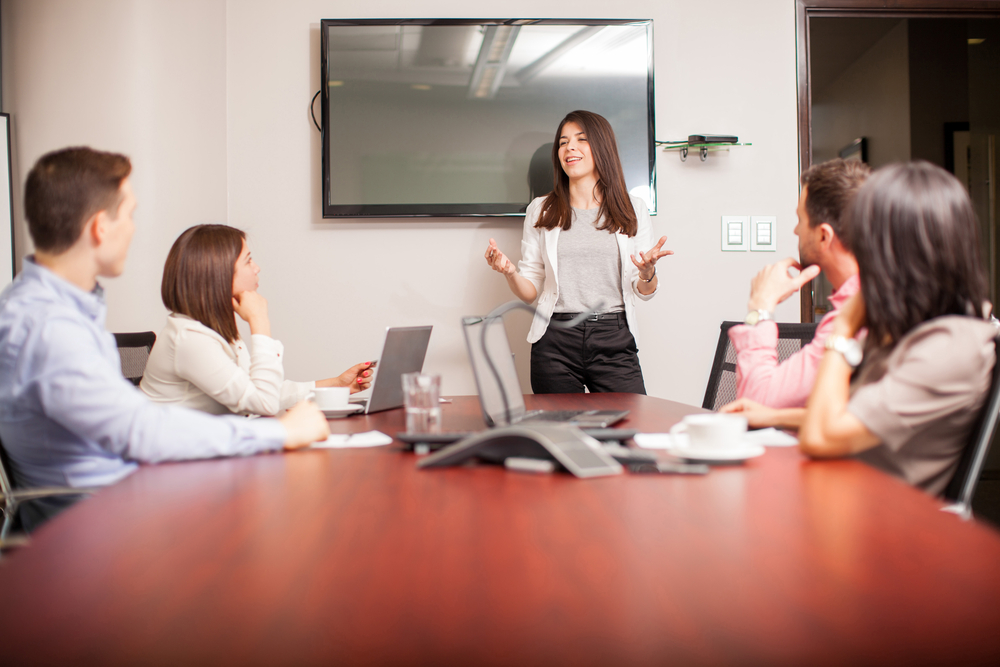 Keep it clear and compelling. When you have the right tools behind you, it makes it much easier to focus on what you want to say. A best practice when using the app is to think about how to convey your message in a way that's straightforward and simple. Less is definitely more when it comes to capturing the attention of your audience, so craft your slide language in short bullet points that will be easy to absorb as digestible take-aways. A few well-placed, compelling graphics from chart to photos can reel people into your message and help keep eyes glued on your screen.
Leverage your technique. You've got the platform, technology, and message ready to go. Now it's time to bring it all home by tuning up your delivery technique as a business speaker. Think about the best presentations you've enjoyed in the past—often the most dynamic speakers understand the human desire to hear relatable stories. Even a short anecdote about your own experience or a client case study can bring home the lessons of your lecture and make your discussion more memorable. Stories can also help your viewers' minds from wandering, especially if you tell them during more dryer, data-intensive parts of the lecture.
If you're still getting your sea legs as an SMB presenter, remember to practice the slideshow once or twice before you go live, to test out your equipment and see how the app works. You can rely on your notes in the presenter mode to help guide you through, and try out that cool laser pointer to guide your audience where you want them to go. Remember to stay as spontaneous as possible to avoid sounding like you're reading verbatim. If you've never used the app before, expect to be surprised by how much more you may like presenting to a crowd—and how much it helps your small business grow.