It's no secret that those who love Windows PC's love WPS Office. It is available in other computer formats, but is especially usable and accessible to most people in its Windows PC version. The academic community uses WPS Office extensively, as its functionality is suited to their work more than any other office suite program. The current version of WPS Officecontains three components:
®
, PowerPoint
®
, and Excel
®
). In fact, it is compatible with Microsoft Office in many ways, so files can be moved between the two office suites with ease.
WPS Office is used by academics around the world and is so popular among them, the question of how to do citations in the writer section of the suite is an important one to its customers. Here is what you need to know about making citations in WPS Office.
There is currently no specific function for creating citations in WPS Office. Similar to Microsoft Word, it can create footnotes, but it does not have the built-in capacity for forming citations in a specific academic style. Unlike other popular word processing programs, there are no citation templates in WPS Office. Therefore, the only thing to do is to learn the citation style you need, or keep a reference sheet or book handy, and make your citations manually.
You can still use the footnote creator function to put your citations at the bottom of the page without messing up the formatting on the rest of the page. Using superscript, you can include your footnote numbers within your text. To put your citations in a bibliography, just create a page at the end of your document and type in the citations manually. If you work with citations a lot, you probably already know how to make the ones used by your profession quite well, so typing them in should not be an issue. It's just a few extra taps on the keys of your keyboard.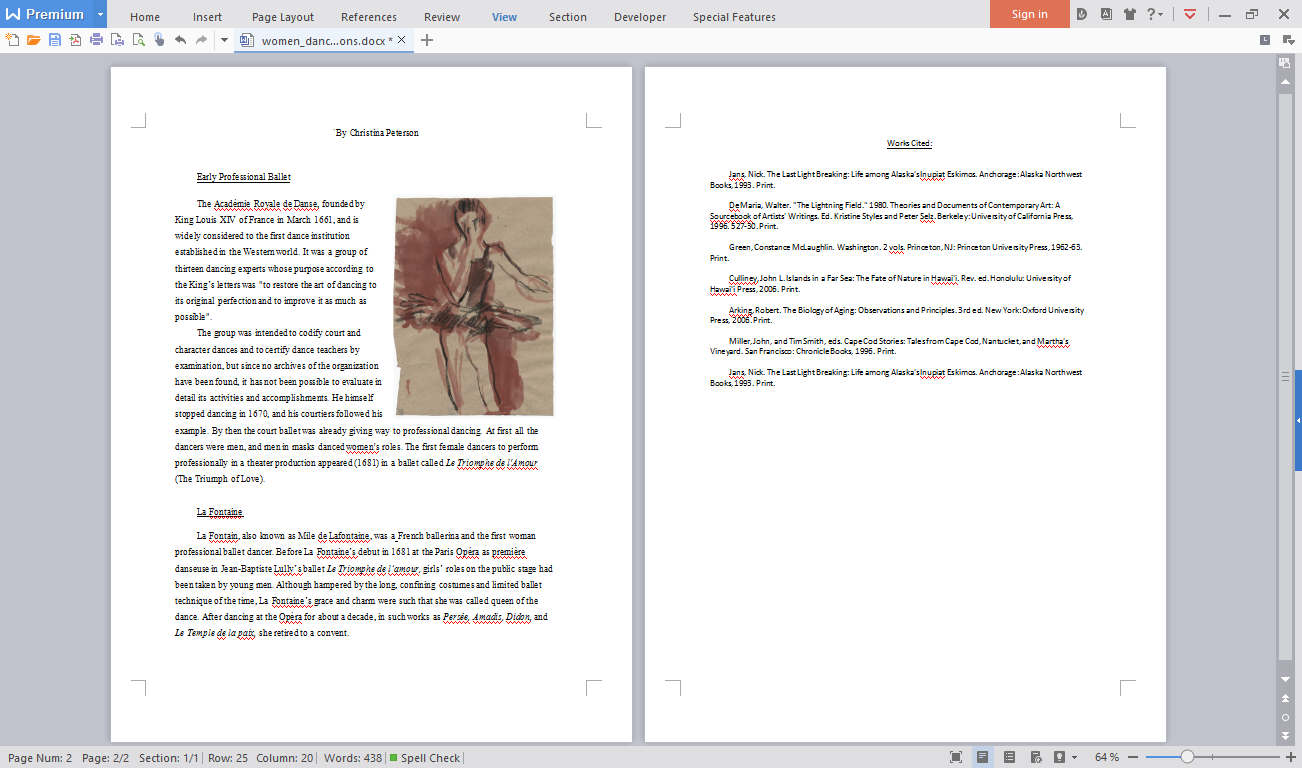 If your citations need indentations on the first line, you can block out the text on your bibliography page or in your footnotes, then click on the ruler at the top of the page and slide it in as much as you need to. The first line of the citations will move with it, creating the indentations you need. If your citations need indentations on the bottom line, simply click your cursor at the beginning of the bottom line and hit the Tab key, after being sure to set the tab to the amount of space you need it to give you in your indentation.
That's all there is to making citations in WPS Office. Some academics have made official requests to the suite's parent company to add citation templates, making this a feature that may be added in future editions. In the meantime, making your citations manually, using the footnote feature when footnotes are required, and making easy indentations with the block text feature or the Tab key are all the things you need to know how to do in order to put citations in your WPS Office document.
For more tips, guides, and information on using WPS Office, please visit our Online Knowledge Base.
Download WPS Office for Windows today!
Download
Download WPS Office for iOS and Android today!