Built-in Security Through Document Encryption
The most effective way to achieve data security is through encryption. Document encryption is simply the conversion of electronic data into a format that no one can read without first decrypting it using a password or secret key. Once data is encoded into "cipher text," no unauthorized parties can understand it, which protects the message content from any would-be interceptors.
Encryption serves many real-world purposes, from providing businesses and individuals with peace of mind by protecting data whether it is stored or in transit, to providing security across multiple devices. Even if a hacker or other unapproved person does manage to breach a network or get their hands on sensitive files, the raw data itself remains safe since it's impossible to decode the information in an encrypted file without the password. Encryption can also help data be transported securely, and can keep data safe from unauthorized tampering and alterations.
Who Offers Encryption?
If you care about the security of your files, then it's important that the desktop application or office suite that you use offers the ability to secure and encrypt sensitive documents with passkeys. Not all office suites provide password file protection—notably, neither WordPerfect Office X7 Professional nor Google Apps for Business provides this level of document security.
On the other hand, WPS Office does support document encryption and advanced read/write permissions as built-in features, both for iOS or Android mobile devices and for Windows. Since WPS Office offers this high level of password protection for its Writer, Presentation, and Spreadsheets apps, users can rest assured that no one can open or access their documents, presentations, or spreadsheets without the password.
This means that users have the ability to choose who can view and edit their documents, providing an extra layer of security compared to other software solutions. The WPS Office program has additional built-ins for document protection as well, including its auto-save capability to help ensure that users don't lose their works-in-progress.
THE NITTY GRITTY
Let's take a closer look at what users can expect when they want to use the encryption feature of WPS Office for document protection, using the Writer application as an example. While these instructions are specific to Writer, you'll find similar screens in the Security settings of Presentation and Spreadsheets that allow you to encrypt your files in those applications as well.
As you'll see from the image below, you have the option within the Security setting to password-protect your documents. The first step is to use the Application drop-down menu that says "Writer" in the top left corner of the screen. Scroll down and select "File Information," and you'll then see options for "Document Protection and Properties." Select "Encryption," which is designated with a lock-and-key icon.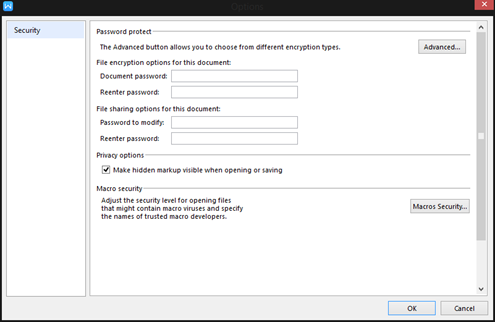 You'll then be taken to a new full screen. Under the words "File encryption options for this document" at the top of the screen, you'll be prompted to enter your chosen password for the document, and then to confirm your password by reentering it. By providing a password in this section, your document will be protected since users who don't know the password can't open the document.
You're also given the option to use file sharing for this document group and can choose to provide and confirm a password for a shared document. It's important to note that for both encryption document protection and file sharing, the software is powerful enough to keep you out of your own files if you forget your password—so you must remember the password or you will be denied access too!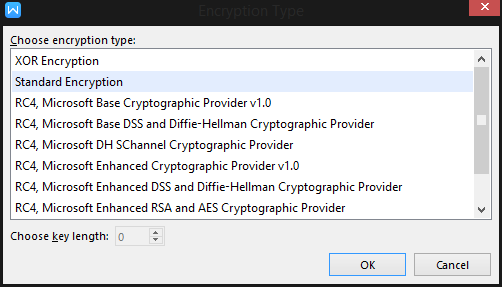 The password protect screen also includes a privacy option to make the hidden markup visible when opening or saving the document—this is automatically selected unless you uncheck the box. Under that option, you'll see a section for Macro security, which allows you to modify the access properties and adjust the security level for opening documents that might contain macro viruses. You can also specify the names of your known and trusted macro developers with this feature. Simply click on the button on the lower right side of the screen to make these adjustments.
If you need even greater levels of security for a file, you can click on the "Advanced" button in the upper right corner of the screen to choose from among different encryption types. (We'll be covering advanced encryption options in more detail in our next post.)
As you can see, having the ability to encrypt the files you create in your office suite provides you with a crucial extra layer of data protection for your documents, presentations, and spreadsheets. Not all office software packages include a built-in encryption feature, so be sure to shop around before settling on the right solution for your desktop and mobile security needs.
For more tips, guides, and information on using WPS Office, please visit our Online Knowledge Base.